24th ASEAN-India Meeting: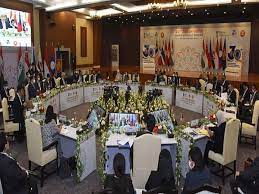 The 24th ASEAN-India Senior Official's Meeting (SOM) was hosted in Delhi.
India and ASEAN celebrated the 30th anniversary of their Dialogue Relations.
Earlier, the 2nd ASEAN Digital Ministers' (ADGMIN) Meeting with India held, where two sides finalized India-ASEAN Digital work plan 2022 for future collaboration in the field.
Key Highlights:
The SOM reviewed the ASEAN-India strategic partnership and its future direction.
The leaders made their assessment on the progress of cooperation under three pillars of Partnership – Political-Security, Economic and Socio-Cultural.
The meeting deliberated on the steps for further implementation of the ASEAN-India Plan of Action (2021-2025).
The two sides exchanged views on regional and international issues of mutual interest including the Covid-19 pandemic and post-pandemic recovery.
Underlining the India's vision of the Indo-Pacific, emphasized the implementation of the ASEAN-India Joint Statement on Cooperation on ASEAN Outlook on Indo-Pacific (AOIP) to strengthen the ASEAN-India Strategic Partnership.
The ASEAN side appreciated India's support to ASEAN and ASEAN-led architecture in the region.
Association of Southeast Asian Nations:
It is a regional grouping that promotes economic, political, and security cooperation.
It was established in August 1967 in Bangkok, Thailand with the signing of the ASEAN Declaration (Bangkok Declaration) by the founding fathers of ASEAN, namely Indonesia, Malaysia, Philippines, Singapore and Thailand.
Its chairmanship rotates annually, based on the alphabetical order of the English names of Member States.
ASEAN countries have a total population of 650 million people and a combined Gross Domestic Product (GDP) of USD 2.8 trillion.
It is India's 4th largest trading partner with about USD 86.9 billion in trade.
ASEAN brings together ten Southeast Asian states – Brunei, Cambodia, Indonesia, Laos, Malaysia, Myanmar, the Philippines, Singapore, Thailand and Vietnam – into one organisation.