Aadi Mahotsav: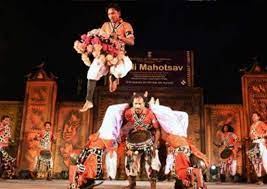 The Union Minister for Tribal Affairs will inaugurate the Aadi Mahotsav – the National Tribal Festival – on 25th Octber, at Ahmedabad, Gujarat.
Aadi Mahotsav mega event is being organised by the Tribal Cooperative Marketing Development Federation of India Limited (TRIFED).
It serves as a unique, symbiotic bridge to embark on a journey through the tapestry of India's indigenous heritage.
In this event, a total of over 100 stalls would showcase the kaleidoscope of India's tribal culture, craftsmanship, culinary artistry, and economic endeavours.
This Aadi Mahotsav, besides other attractions of handicrafts, handloom, pottery, jewellery, will be showcasing 'Millets grown by Tribals'.
TRIFED:
It is a national-level organisation under the Ministry of Tribal Affairs.
It is primarily engaged in the development and marketing of tribal handicrafts and natural products.