Daily Current Affairs for Government Exams:
Today Current Affairs: 28th November 2020 for UPSC IAS exams, State PSC exams, SSC CGL, State SSC, RRB, Railways, Banking Exam & IBPS, etc
Contents:
Global Renewable Energy Investment Meeting and Expo
Bioluminescence:
India and Vietnam:
Honey Farmer Producer Organisation (FPO) Programme :
Climate Change Knowledge Portal:
'Brereton War Crimes Report' :
Other important current affairs:
1.Global Renewable Energy Investment Meeting and Expo: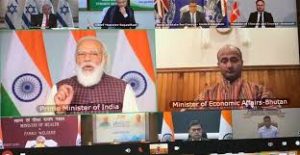 3rd Global Renewable Energy Investment Meeting and Expo (RE-Invest 2020) was inaugurated recently.
The summit is organized by the Ministry of New and Renewable Energy.
The theme for 2020 is 'Innovations for Sustainable Energy Transition'.
India's renewable power capacity is the 4th largest in the world and is growing at the fastest speed among all major countries.
The renewable energy capacity in India is currently 136 Giga Watts, which is about 36% of our total capacity.
India's annual renewable energy capacity addition has been exceeding that of coal-based thermal power since 2017.
In the last 6 years, India has increased installed renewable energy capacity by two and half times.
Overall, India has shown to the world that investing in renewable energy early on even when it was not affordable has helped in achieving the scale, which is bringing costs down. Sound environmental policies can also be sound economics.
2.Bioluminescence: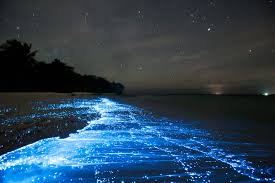 The tide producing a fluorescent blue hue, popularly known as bioluminescence, recently made an appearance at Mumbai's Juhu Beach and Devgad Beach in Sindhudurg, along Maharashtra's coastline.
Bioluminescence has been an annual occurrence along the west coast since 2016, especially during the months of November and December.
The spectacle occurs when phytoplankton (microscopic marine plants), commonly known as dinoflagellates, produce light through chemical reactions in proteins. Waves disturb these unicellular microorganisms and makes them release blue light.
Main factors for its occurrence could be eutrophication – the reduction of oxygen in the water – which makes the phytoplanktons very dominant.
The spectacle may be beautiful, but it may also be a signal of danger. Many of the species in this group are toxic. If dinoflagellates reproduce rapidly, they may cause so-called 'red tides'.
During this period all the animals (molluscs, fish, etc.) that feed on dinoflagellates also become toxic due to the accumulation of high amounts of toxins from dinoflagellates.
It is dangerous to eat such sea animals because the toxins that are contained in them may have various unpleasant effects: some merely irritate the bowel and cause food poisoning, whereas others, being neurotoxins, may even have an effect on memory.
Some species, such as the sea sparkle (Noctiluca scintillans) are not as toxic, but may have other unpleasant effects.
3.India and Vietnam: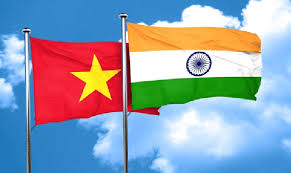 Defence Ministers of India and Vietnam have discussed collaboration in defence industry capability building, training and cooperation in United Nations (UN) peacekeeping operations, etc.
Defence Cooperation: Both countries reaffirmed the strong India-Vietnam Defence cooperation which is a key pillar of Comprehensive Strategic Partnership (2016).
Underlining the vision of "Atmanirbhar Bharat" for enhancing self-reliance including defence industries, India urged closer defence industry cooperation by concluding an institutionalised framework agreement in the near future.
Vietnam thanked India for the assistance by Indian Armed Forces in capacity building of Vietnamese Defence Forces especially in the field of Human Resource development.
India conveyed its willingness to enhance the scope and level of training for all three services of Vietnam Defence forces in Indian Defence Institutes.
It needs to be noted that the two countries have built ties on the procurement of weaponry and military hardware, capacity building, collaboration in the area of warship building and repair.
UN Peacekeeping: Discussed cooperation in UN peacekeeping operations, which help countries navigate the difficult path from conflict to peace.
Cooperation in the field of Hydrography: This will enable sharing of Hydrographic data and assist in the production of navigational charts by both sides.
Hydrography is the science that measures and describes the physical features of the navigable portion of the Earth's surface and adjoining coastal areas.
ADMM Plus Meeting: Vietnam invited India for ASEAN Defence Ministers' Meeting-Plus (ADMM Plus) being hosted by Vietnam in December 2020.
The ADMM-Plus is a platform for the Association of Southeast Asian Nations (ASEAN) and its eight Dialogue Partners Australia, China, India, Japan, New Zealand, Republic of Korea, Russia and the USA (collectively referred to as the "Plus Countries"), to strengthen security and defence cooperation for peace, stability, and development in the region.
Vietnam is a member of ASEAN.
ASEAN is a regional grouping that promotes economic, political and security cooperation among its ten members.
India-Vietnam Relations:
India and Vietnam have agreed to enhance their bilateral cooperation in line with India's Indo-Pacific Oceans Initiative (IPOI) and the ASEAN's Outlook on Indo-Pacific.
This came in the backdrop of China's aggression in the Indo-Pacific region including South China Sea region and its actions along the Line of Actual Control (LAC) with India.
4.Honey Farmer Producer Organisation (FPO) Programme :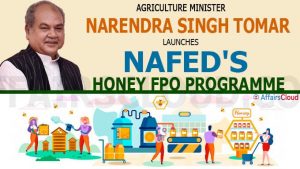 The Minister of Agriculture and Farmers' Welfare has virtually inaugurated the Honey Farmer Producer Organisation (FPO) Programme of the National Agricultural Cooperative Marketing Federation of India Limited (NAFED).
A Producer Organisation (PO) is a legal entity formed by primary producers, viz. farmers, milk producers, fishermen, weavers, rural artisans, craftsmen, etc.
FPO is one type of PO where the members are farmers.
Apiculture or beekeeping is the care and management of honey bees for the production of honey and wax. In this method, bees are bred commercially in apiaries, an area where a lot of beehives can be placed.
The programme has been launched under the Formation and Promotion of FPOs.
It is a new Central Sector Scheme for the promotion of 10,000 new FPOs.
Under it, the National Level Project Management Advisory and Fund Sanctioning Committee (N-PMAFSC) had allocated FPO clusters for 2020-21 to all implementing agencies.
Initially there will be three implementing agencies to form and promote FPOs, namely Small Farmers Agri-business Consortium (SFAC), National Cooperative Development Corporation (NCDC) and National Bank for Agriculture and Rural Development (NABARD).
NAFED has been appointed as the 4th national implementing agency.
States may also, if so desire, nominate their implementing agency in consultation with the Department of Agriculture, Cooperation and Farmers' Welfare (DAC&FW).
FPOs will be developed by specialist Cluster Based Business Organizations (CBBOs) engaged by implementing agencies.
NAFED, through CBBOs and the Indian Society of Agribusiness Professionals (ISAP) has initiated the formation and promotion of FPOs of beekeepers and honey collectors in 5 states of India.
These 5 locations are East Champaran (Bihar), Morena (Madhya Pradesh), Bharatpur (Rajasthan), Mathura (Uttar Pradesh) and Sunderbans (West Bengal).
The first Honey FPO has been registered in the state of Madhya Pradesh under the National Beekeeping and Honey Mission (NBHM).
5.Climate Change Knowledge Portal: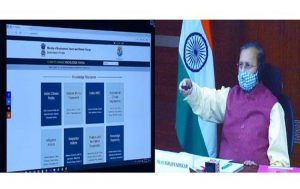 Ministry of Environment, Forest and Climate Change has launched the 'India Climate Change Knowledge Portal'.
India Climate Change Knowledge Portal:
The Portal will help in disseminating knowledge among citizens about all the major steps the Government is taking at both national and international levels to address climate change issues.
It will be a single point Information resource which provides information on the different climate initiatives taken by various Line Ministries enabling users to access updated status on these initiatives.
The eight major components included in the knowledge portal are:

India's Climate Profile: The northern part of the country is characterized as a continental climate with hot summers and cold winters. The coastal regions of the country, however, experience warmer temperatures with little variation throughout the year and frequent rainfall.
National Policy Framework: For Example In order to strengthen the implementation of environmentally sound management of hazardous waste in the country, the Ministry of Environment, Forest and Climate Change has amended the Hazardous and Other Wastes (Management & Transboundary Movement) Rules, 2016.
India's Nationally determined contributions (NDC) Goals: NDC's are at the heart of the Paris Agreement and the achievement of these long-term goals.
NDC's embody efforts by each country to reduce national emissions and adapt to the impacts of climate change.
Adaptation Actions: To meet the high energy demand India is adapting to clean energy development. Example: Jawaharlal Nehru National Solar Mission which aims to increase the share of solar energy in India.
Mitigation Actions: For example, to mitigate water issues Indian government launched the National Water Mission.
Bilateral and Multilateral Cooperation: The Paris climate deal is a great example of multilateral cooperation.
International Climate Negotiations: In the Conference of Parties (COP21) in Paris in 2015, India accepted 1.5 degrees Celsius as a target limit for the increase in the global average temperature and announced an ambitious domestic renewable energy programme.
Reports & Publications: For example, reports like Assessment of Climate Change over the Indian Region published by the Ministry of Earth Sciences (MoES).
6. 'Brereton War Crimes Report' :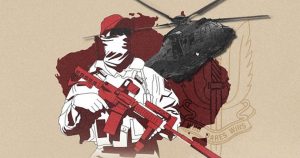 The Australian army moved to discharge 13 soldiers in connection with 'Brereton War Crimes Report' that alleged that a number of Afghani civilians and prisoners were unlawfully killed.
The Inspector-General of the Australian Defence Force Afghanistan Inquiry Report is commonly known as the Brereton Report.
It is a report into war crimes committed by the Australian Defence Force (ADF) during the War in Afghanistan between 2005 and 2016.
The investigation was led by Paul Brereton, who is both a New South Wales Supreme Court judge and a major general in the army reserve.
The final report was delivered on 6 November 2020. The redacted version was released publicly on 19 November 2020.
Findings:
The report found evidence of 39 murders of civilians and prisoners by (or at the instruction of) members of the Australian special forces, which were subsequently covered up by ADF personnel.
The report stated 25 ADF personnel were involved in the killings, including those who were "accessories" to the incident.
The unlawful killings discussed by the report began in 2009, with most occurring in 2012 and 2013.
Other important current affairs:
1.The Navy's Information Management and Analysis Centre (IMAC) will soon become a National Maritime Domain Awareness (NDMA) centre, with all stakeholders having their presence there.
About IMAC:

It is the nodal agency for maritime data fusion.
It was set up after the 26/11 Mumbai terror attacks.
Approved by the Defence Acquisition Council in 2012.
Became operational in 2014 and is located in Gurugram.
It is the nodal centre of the National Command Control Communication and Intelligence System (NC3I), which was established to link the operational centres and lower echelons of the Navy and the Coast Guard spread across the country's coastline, including the island territories.
2.India's Gross Domestic Product (GDP) contracted 7.5% in the second quarter of 2020-21, following the record 23.9% decline recorded in the first quarter, as per estimates released by the National Statistical Office.
The country has now entered a technical recession with two successive quarters of negative growth.
Agriculture, which was the only sector to record growth between April and June this year, grew at the same pace of 3.4% in the second quarter.
Manufacturing gross value-added (GVA) staged a sharp recovery to record 0.6% growth between July and September after collapsing 39.3% in the first quarter.
Electricity, gas, water supply and other utility services also recorded 4.4% growth in the second quarter, recovering from a 7% contraction in Q1.
But it remained a bleak quarter for several sectors, including mining, services such as retail trade and hotels, construction and financial services.
While the 7.5% contraction in GDP came as a positive surprise, there are concerns about a decline in government spending and the worsening fate of two key sectors compared to the first quarter.
3.The Ministry of Road Transport and Highways has issued the Motor Vehicle Aggregator Guidelines 2020 as per the requirements and provisions of the Motor Vehicles (Amendment) Act, 2019 and further as per the amended Section 93 of the Motor Vehicles Act, 1988.
The Guidelines provide for –
A license issued by the State Government is a mandatory pre-requisite for permitting business operations by the aggregator.
For regulating the aggregators, the guidelines specified by the Central Government may be followed by State Governments.
In order to ensure compliance with the license requirements, the Act stipulates penalties under Section 93 of the Act.
These Guidelines seek to establish a regulatory framework for aggregators by State Governments to ensure that the aggregators are accountable and responsible for the operations executed by them.
The business shall also be considered as a service provided by the aggregators to serve the larger public interest in terms of generation of employment, commutation facilities to the public which is cost-effective and comfortable.
4.National Organ Donation Day was celebrated on 27th November by the Ministry of Health and Family Welfare.
National Organ Transplant Programme (NOTP)
Provides financial grants for establishing ROTTOs, SOTTOs, developing new and upgrading existing retrieval and transplant centres.
Organ Donation Institutional Set up: The National Organ & Tissue Transplant Organisation (NOTTO), the Regional Organ & Tissue Transplant Organisations (ROTTO) at the regional level and the State Organ & Tissue Transplant Organisations (SOTTO) at the state level.
State of Organ Donation in India: India ranked third in the world as per WHO Global Observatory on Donation and Transplantation (GODT) in terms of organ donation.