BHARAT TAP Initiative: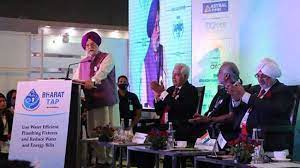 The Minister for Housing and Urban Affairs launched the BHARAT TAP initiative at the 'Plumbex India' exhibition. This exhibition is aimed at products and services related to the plumbing, water, and sanitation industry.
At the exhibition, NAREDCO (National Real Estate Development Council) MAHI's 'Nirmal Jal Prayas' initiative was also launched.
BHARAT TAP Initiative:
It is a concept to use low flow tap and fixtures.
It will provide low-flow, sanitary-ware at scale, and thereby reduce water consumption at the source considerably.
It is estimated to save approximately 40% of water. This will in turn result in water saving and energy saving due to less water and energy will be required for pumping, transporting, and purification.
This initiative will also be accepted quickly in the country and will lead to a renewed focus on water conservation efforts.
NAREDCO MAHI:
It seeks to help solve the global water crisis, removing the financial barriers that stand between people in need and access to safe water and sanitation at home.
Nirmal Jal Prayas' initiative will look into mapping ground water as it is very important to save underground water and will work to save 500 crore litres of water per year.
The women wing of NAREDCO, was set up in 2021 with an aim to empower women entrepreneurs and encourage the participation of women in the real estate sector and allied fields.
It strives to create an environment where women in the real estate sector can come together to share experiences, harnesses their skills, draw on their resources, influence, grow and bring about lasting change.
Such an initiative in water conservation will be of immense importance to save water.