Account Aggregator: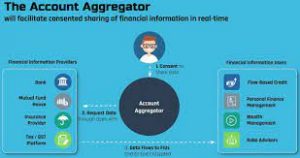 On September 2 eight of India's major banks joined the Account Aggregator (AA) network that will enable customers to easily access and share their financial data.
The framework, which has been under discussion since 2016 and in the testing phase for some time, will now be open to all customers.
An Account Aggregator is a non-banking financial company engaged in the business of providing, under a contract, the service of retrieving or collecting financial information pertaining to its customer.
It is also engaged in consolidating, organising and presenting such information to the customer or any other financial information user as may be specified by the bank.
The licence for AAs is issued by the RBI, and the financial sector will have many AAs.
The AA framework allows customers to avail various financial services from a host of providers on a single portal based on a consent method, under which the consumers can choose what financial data to share and with which entity.
It reduces the need for individuals to wait in long bank queues, use Internet banking portals, share their passwords, or seek out physical notarisation to access and share their financial documents.