'Umang', 'Rain Alarm' And 'Damini'.: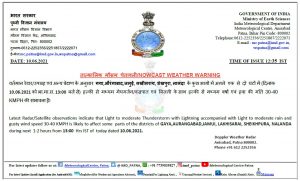 Union Home Minister Shri Amit Shah called for giving maximum publicity to various mobile apps related to weather forecasting like 'Umang', 'Rain Alarm' and 'Damini'.
The Damini app monitors the lightning occurrence all over India and alerts the user of lightning near them by a GPS notification under 20km and 40km.
Damini app triggers warning about lightning strikes three hours in advance which can help reduce losses to life and property.
Developed by the Indian Institute of Tropical Meteorology (IITM-Pune) and Earth System Science Organization(ESSO) under the ministry of earth sciences,
Launched in 2020.