Achanakmar Tiger Reserve : Tigress Captured After It Killed Two Person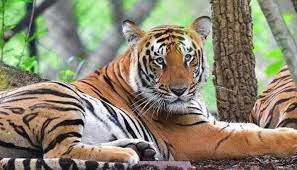 A tigress that had been captured after it killed two persons and injured another in Chhattisgarh's Surajpur district was recently released into Achanakmar Tiger Reserve.
Achanakmar Tiger Reserve is located in the Bilaspur district of Chhattisgarh.
It was declared a tiger reserve in 2009.
It is a part of the huge Achanakmar-Amarkantak Biosphere Reserve.
Maniyari River flows right from the centre of this reserve, which is the forest's lifeline.
It has a corridor connecting to Kanha and Bandhavgarh Tiger reserves and plays a critical role in the dispersal of tigers among these reserves.
Vegetation: Tropical deciduous forest.
Flora: Sal, bija, saja, haldu, teak, tinsa, dhawara, lendia, khamar and bamboo bloom here along with over 600 species of medicinal plants.
Fauna: Wild fauna includes the tiger, leopard, bison, flying squirrel, Indian giant squirrel, chinkara, wild dog, hyena, sambar, chital and over 150 species of birds.