Garuda VII Defense Exercise: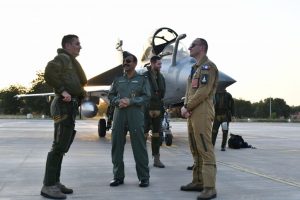 Indian Air Force (IAF) and French Air and Space Force (FASF) are participating in 'Garuda VII' at Air Force Station Jodhpur.
It is being hosted by India for the fourth time so far.
Garuda VII is the seventh edition of the bilateral air exercise between India and France that is taking place after a gap of two years.
The first, third and fifth editions were conducted in India in 2003, 2006 and 2014 at Air Force Stations Gwalior, Kalaikunda and Jodhpur, respectively.
In this exercise, FASF will participate with four Rafale fighter aircraft, one A-330 Multi Role Tanker Transport (MRTT) aircraft and a contingent of 220 personnel.
The IAF is participating with Su-30 MKI, Rafale, Light Combat Aircraft (LCA) Tejas and Jaguar fighter aircraft, as well as the Light Combat Helicopter (LCH) and Mi-17 helicopters.
The IAF contingent will also include Combat Enabling Assets like Flight Refueling Aircraft, Airborne Warning & Control System (AWACS) and Airborne Early Warning and Control (AEW&C).