Aditya-L1 Mission: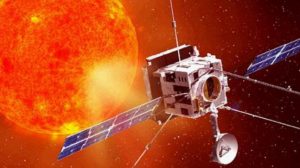 ARIES facility (Aryabhata Research Institute for Observational Sciences) will host the support center for Aditya-L1 mission, which is due to be launched next year (2022).
ARIES is an autonomous institute under the Department of Science & Technology and is located in Nainital (Uttarakhand).
About Aditya-L1 Mission:
It is India's first scientific expedition to study the Sun. It will be ISRO's(Indian Space Research Organisation) second space-based astronomy mission after AstroSat, which was launched in 2015.
ISRO categorises Aditya L1 as a 400 kg-class satellite that will be launched using the Polar Satellite Launch Vehicle (PSLV) in XL configuration.
It will be inserted in a halo orbit around the L1 ( Lagrangian point 1), which is 1.5 million km from the Earth.
The space-based observatory will have seven payloads (instruments) on board to study the Sun's corona, solar emissions, solar winds and flares, and Coronal Mass Ejections (CMEs), and will carry out round-the-clock imaging of the Sun.
Aditya-L1 Support Centre (ASC):
The main aim of this center is to let every researcher in India perform analysis over scientific data obtained from Aditya-L1.
It will expand the visibility of Aditya-L1 beyond India at the international level.
It will host a compendium of the location and duration of different features on the solar surface such as coronal holes, prominences, flares, CMEs, and sunspots.
Continuous monitoring of the location and duration of these features will help in monitoring the Earth-directed CMEs and thereby, the space weather.