Aroma Mission: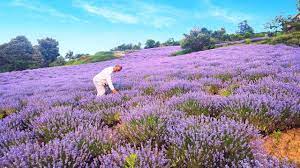 The Union Minister of State Science & Technology has proposed Integrated Aroma Dairy Entrepreneurship for Jammu & Kashmir to augment the income of farmers.
The Aroma Mission, also popularly referred as "Lavender or Purple Revolution", has started from J&K and transformed the lives of farmers who are able to grow lavender, make lucrative profit and improve their lives.
Earlier, the floriculture mission was launched in 21 States and Union Territories.
Aroma Mission:
Objectives:
To promote the cultivation of aromatic crops for essential oils that are in great demand by the aroma industry.
To enable Indian farmers and the aroma industry to become global leaders in the production and export of some other essential oils on the pattern of menthol mint.
To provide substantial benefits to the farmers in achieving higher profits, utilization of waste lands and protection of their crops from wild and grazing animals.
Nodal Agencies:
The nodal laboratory is CSIR-Central Institute of Medicinal and Aromatic Plants (CSIR-CIMAP), Lucknow.
The participating laboratories are CSIR-Institute of Himalayan Bioresource Technology (CSIR-IHBT), Palampur; CSIR-Indian Institute of Integrative Medicine (CSIR-IIIM), Jammu etc.
Coverage:
The scientific interventions made under the mission project provided assured benefits to the growers of Vidarbha, Bundelkhand, Gujarat, Marathwada, Rajasthan, Andhra Pradesh, Odisha and other states where farmers are exposed to frequent episodes of weather extremes and account for maximum suicides.
Aromatic Plants include lavender, damask rose, mushk bala, etc.
Launch of Second Phase:
CSIR-IIIM-Jammu announced Aroma Mission phase-II in February, 2021 after the success of the first phase.
It focuses on setting up of cooperatives for marketing, promotion of cultivation and processing of high value medicinal and aromatic plants (MAPs), development of superior varieties and their agro technologies, setting up of distillation units and processing facilities, skill and entrepreneurship development, value-addition and product development from MAPs.