Agni Prime Missile : Successfully Tested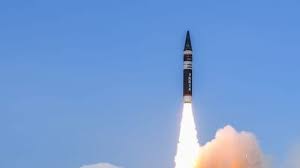 New Generation Ballistic Missile 'Agni Prime' was successfully flight-tested by Defence Research and Development Organisation (DRDO) from Dr APJ Abdul Kalam Island.
Agni Prime Missile is a short-range ballistic missile that will have a range of 1000 km to 1500 km.
It is a surface to a surface missile that can carry a payload of around 1,000 Kg or a nuclear warhead.
It incorporates new propulsion systems and composite rocket motor casings as well as advanced navigation and guidance systems.
Ballistic Missiles are launched directly into the upper layers of the earth's atmosphere.
They travel outside the atmosphere, where the warhead detaches from the missile and falls towards a predetermined target.
They are rocket-propelled self-guided weapons systems which can carry conventional or nuclear munitions.
They can be launched from aircraft, ships and submarines, and land.