Agni-P (Prime):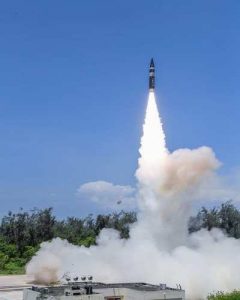 A new-generation nuclear-capable ballistic missile, Agni-P (Prime) was successfully test-fired by the Defence Research and Development Organisation (DRDO) from the Dr. A.P.J. Abdul Kalam island, Balasore, off the coast of Odisha.
The 'Agni Prime' is the advanced version of the 'Agni-1' missile.
The 'Agni Prime' is a short-range ballistic missile that will have a range of 1000 km to 1500 km and will have advanced features in agility and road mobility. It is a surface to a surface missile that can carry a payload of around 1,000 Kg or a nuclear warhead.
The double stage missile will be lighter and much sleeker than its predecessor 'Agni-1'.
It is a canisterised missile. Canisterisation of missiles reduces the time required to launch the missile while improving its storage and mobility.
The Agni class of missiles are the mainstay of India's nuclear launch capability which also includes the Prithvi short-range ballistic missiles, submarine-launched ballistic missiles and fighter aircraft.
Submarine missiles:
In the past few years, India has also operationalised its submarine-based nuclear launch capability, completing the nuclear triad.
The DRDO, in January 2020, successfully test-fired a 3,500-km range submarine-launched ballistic missile, K-4, from a submerged pontoon off the Visakhapatnam coast.
Once inducted, these missiles will be the mainstay of the Arihant class of indigenous ballistic missile nuclear submarines (SSBN) and will give India the stand-off capability to launch nuclear weapons submerged in Indian waters.
INS Arihant, the only SSBN in service, is armed with K-15 missiles with a range of 750 km.