Maiden India-France-UAE Maritime Partnership Exercise: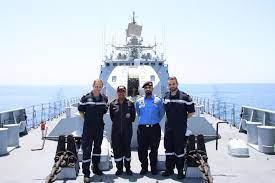 The first edition of India, France, and United Arab Emirates (UAE) Maritime Partnership Exercise commenced on 7th June 2023 in the Gulf of Oman, featuring the participation of INS Tarkash, French Ship Surcouf, French Rafale aircraft, and UAE Navy Maritime Patrol Aircraft.
It emphasizes the exchange of best practices and paves the way for greater naval collaboration among India, France, and the UAE.
India and France have established strong cooperation in the defense sector, the two countries regularly conduct joint exercises such as Exercise Shakti, Exercise Varuna, and Exercise Garuda involving their respective army, navy, and air force.
India has collaborated with France in the construction of six Scorpene submarines through a technology-transfer arrangement in 2005, and France has provided India with 36 Rafale fighter jets under an inter-government agreement.
India and the UAE have also established strong cooperation in the defense realm.
India and the UAE conduct joint air combat exercises, such as 'Desert Eagle II', to enhance security cooperation and counter terrorist threats.