Agni-1 Missile: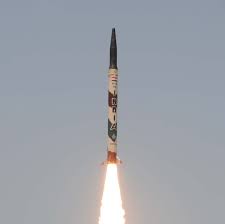 A successful training launch of a medium-range ballistic missile, Agni-1 was carried out by the Strategic Forces Command from APJ Abdul Kalam Island, Odisha.
Agni- 1 ballistic missile is a medium-Range Ballistic Missile having range 700–900 km.
It is a single-stage, solid-fuel missile.
It is capable of carrying a nuclear warhead with an estimated payload of 1,000 kg.
The latest upgrade to the Agni-1 missile includes a new guidance system that makes it more accurate and a new warhead that increases its destructive power.
It is road-mobile, which gives it a high degree of mobility and makes it difficult for an enemy to target.
It was first test-fired in 2002.
The Indian Army's Strategic Forces Command first deployed this missile in 2007.
The Agni-I originated from India's 1983 Integrated Guided Missile Development Program (IGMDP).