Agni V : Test Trials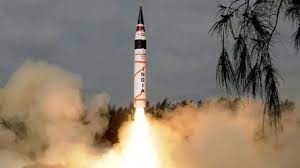 India has successfully conducted night trials of nuclear-capable ballistic missile Agni V.
It is a surface-to-surface Nuclear Capable Ballistic missile.
It can carry both nuclear and traditional weapons.
Agni-V, with a range of over 5,000 km, is India's longest-range ballistic missile and can reach most parts of China, making it the mainstay of India's triad to deliver nuclear weapons.
It is a 17-meter long missile with two-meter diameter
It has been indigenously developed by Defence Research and Development Organisation (DRDO).
Agni-V is the most advanced missile in the Agni series featuring many new technologies, including the very high accuracy Ring Laser Gyro based Inertial Navigation System (RINS) and Micro Navigation System (MINS) which improves the accuracy of the missile.
With the Agni-V, India joins an elite club of countries like US, Russia, the UK, France and China, which boast Inter-Continental Ballistic Missile (ICBM) capabilities.