Landing Of INS Vikrant: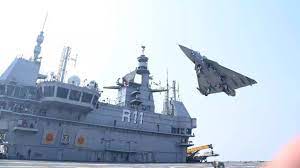 The Naval variant of the indigenous Light Combat Aircraft undertakes its maiden landing onboard the country's first Indigenous Aircraft Carrier INS Vikrant.
INS Vikrant:
It is the first ever indigenously designed and constructed aircraft carrier which will strengthen the country's stand as a 'Blue Water Navy'.
The ship has been designed in-house by Indian Navy's Warship Design Bureau and constructed by M/s Cochin Shipyard Limited.
India also joined the elite group of nations – the US, Russia, France, the UK and China – who are capable of designing and constructing aircraft carriers.
Also, with a displacement of 43,000 tonnes when fully loaded, INS Vikrant is set to be the seventh largest among the carriers or carrier classes in the world.