Arunachal Pradesh And Mizoram: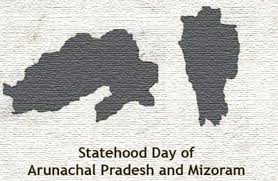 The Prime Minister of India extended his wishes to the people of Arunachal Pradesh and Mizoram on their 35th Statehood Day.
Mizoram became the 23rd state of India on the same day, with the 53rd Amendment of the Indian Constitution, 1986.
Similarly, through the 55th amendment to the Indian Constitution in 1986, Arunachal Pradesh became the 24th state of the Indian Union on 20th February 1987.