Anti-Defection Law::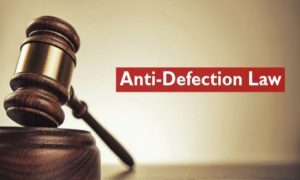 Lok Sabha Secretariat has issued notices to three MPs, after their parties petitioned Speaker Om Birla, seeking their disqualification under the Anti-Defection Law.
They have been asked to give their comments within 15 days of receipt of letters.
Anti-defection law:
In 1985 the Tenth Schedule, popularly known as the anti-defection law, was added to the Constitution by the 52nd Amendment Act.
The purpose of the Amendment was to bring stability to governments by deterring MPs and MLAs from changing their political parties on whose ticket they were elected.
The penalty for shifting political loyalties is the loss of parliamentary membership and a bar on becoming a minister.
If a member of a house belonging to a political party:

Voluntarily gives up the membership of his political party, or
Votes, or does not vote in the legislature, contrary to the directions of his political party. However, if the member has taken prior permission, or is condoned by the party within 15 days from such voting or abstention, the member shall not be disqualified.
If an independent candidate joins a political party after the election.
If a nominated member joins a party six months after he becomes a member of the legislature.