Conjugal Rights: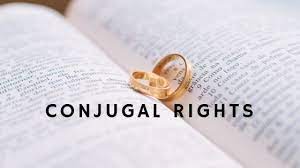 A petition challenging the provision allowing restitution (recovery) of conjugal rights under Hindu personal laws (Hindu Marriage act 1955).has been pending in the Supreme Court (SC) for months without a hearing.
The petition, titled Ojaswa Pathak vs Union of India, was filed in the SC in February 2019. The case was last heard in July 2021.
Conjugal rights are rights created by marriage, i.e. right of the husband or the wife to the society of the other spouse.
The law recognises these rights— both in personal laws dealing with marriage, divorce etc, and in criminal law requiring payment of maintenance and alimony to a spouse.
Section 9 of the Hindu Marriage Act 1955 and Section 22 of the Special Marriage Act 1954 empower a husband or a wife to move the local district court, complaining that the other partner has "withdrawn" from the marriage without a "reasonable cause".
The concept of restitution of conjugal rights is codified in Hindu personal law now, but has colonial origins.
Originating from Jewish law, the provision for restitution of conjugal rights reached India and other common law countries through British Rule.
The British law treated wives as their husband's personal possession hence they were not allowed to leave their husbands.
Similar provisions exist in Muslim personal law as well as the Divorce Act, 1869, which governs Christian family law.
Incidentally, in 1970, the U.K repealed the law on restitution of conjugal rights.