Anti-Defection Law: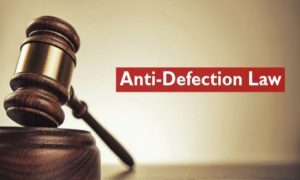 In light of the events in Maharashtra, with the Uddhav Thackeray government facing internal dissent from a block of 22 MLAs led by Eknath Shinde, the anti-defection law has again come into the spotlight.
The anti-defection law was included in the Constitution as the Tenth Schedule in 1985 to combat the "evil of political defections".
The main purpose was to preserve the stability of governments and insulate them from defections of legislators from the treasury benches.
The law stated that any Member of Parliament (MP) or that of a State legislature (MLA) would be disqualified from their office if they voted on any motion contrary to the directions issued by their party.
The provision was not limited to confidence motions or money bills (which are quasi-confidence motions).
It applies to all votes in the House, on every Bill and every other issue.
It even applies to the Rajya Sabha and Legislative Councils, which have no say in the stability of the government.
Therefore, an MP (or MLA) has absolutely no freedom to vote their judgement on any issue.
They have to blindly follow the direction of the party.
This provision goes against the concept of representative democracy.