ASEAN India Hackathon: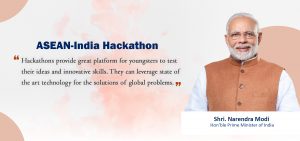 The ASEAN-INDIA Hackathon was inaugurated to further strengthen the India and ASEAN ties.
The background of the India-ASEAN hackathon lies in Prime Minister Shri Narendra Modi's call during the India-Singapore hackathon in the year 2019.
The minister highlighted that the ASEAN-India hackathon will provide a unique opportunity to India and ASEAN countries to solve their common identified challenges.
The common challenges of the countries are categorized under two themes namely the "Blue Economy" and "Education".
ASEAN-INDIA Hackathon:
The ASEAN-INDIA Hackathon initiative is undertaken by the Ministry of Education.
In the year 2021, the hackathon is being organized online from February 1 to 3, 2021.
The hackathon will offer new opportunities for all the 10 ASEAN countries and India to strengthen their economic and cultural ties by collaborating into the fields of education, science and technology.