The Reclining Buddha: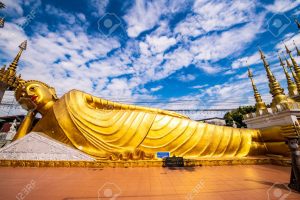 On Buddha Jayanti (May 26), India's largest statue of the Reclining Buddha was to have been installed at the Buddha International Welfare Mission temple in Bodh Gaya. The ceremony has been put off due to Covid-19 restrictions.
A reclining Buddha statue or image represents the Buddha during his last illness, about to enter Parinirvana.
Parinirvana is the stage of great salvation after death that can only be attained by enlightened souls.
The Buddha's death came when he was 80 years old, in a state of meditation, in Kushinagar in eastern Uttar Pradesh, close to the state's border with Bihar.
The Reclining Buddha was first depicted in Gandhara art, which began in the period between 50 BC and 75 AD and peaked during the Kushana period from the first to the fifth centuries AD.
Statues and images of the Reclining Buddha show him lying on his right side, his head resting on a cushion or on his right elbow.
It is meant to show that all beings have the potential to be awakened and be released from the cycle of death and rebirth.
Reclining postures are more prevalent in Thailand and other parts of southeast Asia.
The largest Reclining Buddha in the world is the 600-foot Winsein Tawya Buddha built-in 1992 in Mawlamyine,
The Bhamala Buddha Parinirvana in Pakistan's Khyber Pakhtunkhwa province, which dates back to the 2nd century AD, is considered the oldest statue of its kind in the world.