ASEAN India Maritime Exercise 2023: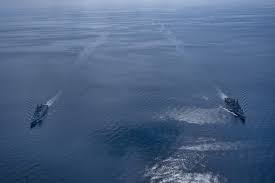 Indian Naval Ships arrived in Singapore to participate in the Inaugural ASEAN India Maritime Exercise (AIME-2023).
ASEAN India Maritime Exercise (AIME-2023) will inaugurate in Singapore.
Objective is to strengthen cooperation and coordination between the Indian Navy and ASEAN navies in the maritime domain.
The Harbour Phase of the exercise is scheduled to be held at Changi Naval Base from 02 to 04 May 2023.
During this phase, participating nations will engage in various professional and cultural exchanges.
The Sea Phase will be conducted from 07 to 08 May 2023 in the South China Sea.
This phase will include a wide range of naval exercises such as surface warfare exercises, anti-submarine warfare exercises, and air defence exercises.