Varuna Exercise 2023: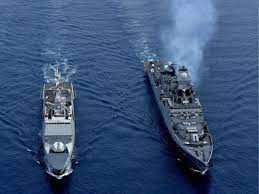 The 21st edition of the bilateral naval exercise between India and France, Exercise Varuna, has begun on the Western Seaboard on January 16th, 2023.
This edition of the exercise will see the participation of the Indian Navy's indigenous guided missile stealth destroyer INS Chennai, guided missile frigate INS Teg, maritime patrol aircraft P-8I and Dornier, integral helicopters, and MiG29K fighter aircraft.
The French Navy will be represented by the aircraft carrier Charles De Gaulle, frigates FS Forbin and Provence, support vessel FS Marne, and maritime patrol aircraft Atlantique.
The exercise will take place over five days, from January 16th to 20th, 2023, and will involve advanced air defense exercises, tactical maneuvers, surface firings, underway replenishment, and other maritime operations.