Atmanirbhar Bharat Rojgar Yojana: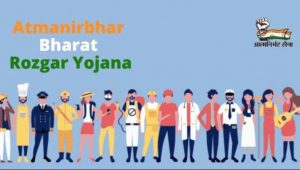 Maharashtra has topped the list of states with maximum number of beneficiaries under the Atmanirbhar Bharat Rojgar Yojana (ABRY), followed by Tamil Nadu and Gujarat.
It was launched in November 2020 to boost employment in the formal sector and incentivize creation of new employment opportunities during the Covid-19 recovery phase under Atmanirbhar Bharat Package 3.0.
It provides subsidy for provident fund contribution for adding new employees to establishments registered with the Employees' Provident Fund Organization (EPFO).
The organizations of up to 1000 employees would receive employee's contribution (12% of wages) & employer's contributions (12% of wages), totalling 24% of wages, for two years.
Employers with over 1,000 employees will get employees' contribution of 12%, for two years.
The subsidy amount under the scheme will be credited upfront only in Aadhaar-seeded EPFO accounts (UAN) of new employees.
Establishments registered with EPFO will be eligible for the benefits if they add new employees compared to the reference base of employees as in September 2020.
Establishments, with up to 50 employees, would have to add a minimum of two new employees.
The organizations, with more than 50 employees, would have to add at least five employees.
Any new employee joining employment in EPFO registered establishments on monthly wages less than Rs. 15,000.
Those who left their job between 1st March to 30th September 2020 and are employed on or after 1st October 2020.