Australia's Great Barrier Reef : UNESCO Heritage Committee Concern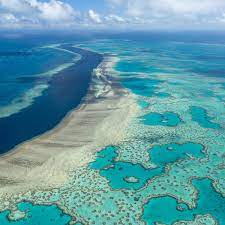 A UNESCO heritage committee recently stopped short of listing Australia's Great Barrier Reef as a site that is "in danger" but warned the world's biggest coral reef ecosystem remained under "serious threat" from pollution and the warming of oceans.
Great Barrier Reef lies in the Pacific Ocean off the northeastern coast of Queensland, Australia, in the Coral Sea.
It is the longest and largest coral reef system in the world.
It extends in roughly a northwest-southeast direction for more than 2,000 km, at an offshore distance ranging from 16 to 160 km, and its width ranges from 60 to 250 km.
It has an area of some 350,000 square km.
It is composed of over 2,500 individual reefs of varying sizes and shapes and over 900 islands.
It was designated as a UNESCO World Heritage Site in 1981.
Much of the Great Barrier Reef is a marine protected area, managed by the Great Barrier Reef Marine Park Authority of Australia.
It is estimated that the reef is home to around 1,500 species of fish and around 600 different coral species.
Corals are marine invertebrate animals that belong to the phylum Cnidaria.