Sathyamangalam Tiger Reserve : Male Tiger Found Dead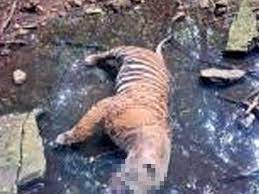 A male tiger was recently discovered dead in the Sathyamangalam Tiger Reserve (STR), after getting ensnared in a trap intended for deer.
Sathyamangalam Tiger Reserve is located at the junction of the Eastern and the Western Ghats in the Nilgiri Biosphere Reserve, in the Erode District of Tamil Nadu.
Its area is contiguous with the Mudumalai Tiger Reserve, Bandipur Tiger Reserve (Karnataka) and BR Tiger Reserve and Wildlife Sanctuary(Karnataka).
Together, these reserves forming the Nilgiris biosphere landscape — have the biggest tiger population in the world, at over 280 tigers.
It is hilly and undulated with altitude ranging between 750m and 1649m.
It consists of southern tropical dry thorn forests, mixed deciduous forests, semi-evergreen forests, and Riparian forests.
It is subtropical and dry.
The summers are hot and dry; the monsoons are wet and cooler, with river flooding.
Some of the prominent rivers in the region include the Bhavani, Moyar, and Noyyal rivers.
It is home to several indigenous tribal communities, including the Irula and Kurumba tribes.