Second Edition Of The State Of Finance For Nature Report: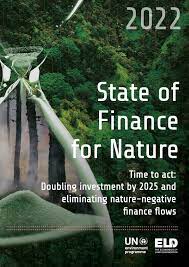 The second edition of the State of Finance for Nature report was released.
The report was released jointly by the UN Environment Programme (UNEP) along with the Economics of Land Degradation initiative of the Federal Ministry for Economic Cooperation and Development (BMZ) of Germany, the United Nations Convention to Combat Desertification (UNCCD) and the European Commission.
Findings of the Report:
The key focus should be on doubling finance flows to NbS and reducing it for activities that increase greenhouse gas (GHG) emissions.
Public funds make up 83% of the total and the private sector contributes approximately 17%.
Total finance flows to NbS have increased by USD 3.9 billion from USD 150 billion (SFN 2021) to USD 154 billion per year.
This represents year-on-year growth in investment of 2.6% in real terms across the sum of public and private financial flows.
Finance flows to marine NbS are roughly USD 14 billion, 9% of total (terrestrial and marine).
Annual domestic government expenditure in marine NbS is over USD 10 billion per year, including spending on marine protected areas, sustainable management of fisheries and research and development of fisheries.
Public financial support for nature-negative activities ranges from USD 500 to 1,100 billion per year at present, which is three to seven times larger than current investments in NbS.