Ayushman Bhav Campaign: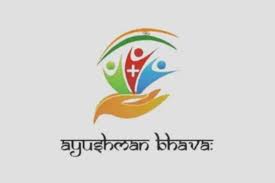 In a move towards achieving Universal Health Coverage (UHC) and ensuring healthcare for all, the President of India virtually launched the Ayushman Bhav campaign and the Ayushman Bhava portal.
This initiative aims to deliver healthcare services to the last mile and consolidate access and affordability for underserved populations.
The campaign also raises awareness about vital health schemes and diseases, leveraging India's digital inclusion efforts to extend healthcare accessibility.
The 'Ayushman Bhav' campaign will be implemented during the 'Seva Pakhwada' embodying a whole-of-nation and whole-of-society approach.
The campaign adopts a collaborative, multi-ministerial approach.
Ayushman Bhava aligns with the motto of "Sabka Saath Sabka Vikas" (Together with All, Development for All).
This philosophy underscores inclusivity, leaving no one behind in healthcare access.
Three Key Components of Ayushman Bhava:

Ayushman – Apke Dwar (AAD) 3.0: AAD 3.0 will enable eligible beneficiaries to create Ayushman cards for himself/herself/any of the family members. This streamlines healthcare access and benefits.
Ayushman Melas at HWCs and CHCs: Health Melas and Medical Camps are established weekly at Health and Wellness Centres (HWCs) and Community Health Clinics (CHCs). They prioritize the delivery of super-specialty healthcare services, including non-communicable disease screenings, tele-consultations, free medicines, and diagnostics.
Ayushman Sabhas: Ayushman Sabha is a community-level assembly, led by the Village Health and Sanitation Committee (VHSNC) in rural areas or the Ward Committee/Municipal Advisory Committee (MAS) in urban wards.

Its primary mission is to ensure comprehensive health coverage and optimal healthcare service delivery.