National Achievement Survey 2021: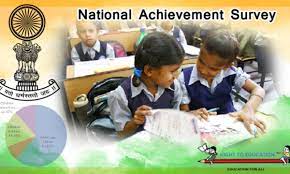 The Union Government has conducted the National Achievement Survey (NAS) across India, assessing about 38 lakh students from 1.23 lakh schools in 733 districts in 36 States and Union Territories.
The survey was last conducted in 2017 and was scheduled to take place in 2020. However, due to the Covid situation, it was postponed until this year (2021).
It is a nationwide survey to assess the learning outcomes and health of the education system.
It is the largest, nationwide, sample-based education survey conducted across India.
It is undertaken by the Ministry of Education.
The Central Board of Secondary Education (CBSE) conducted NAS 2021.
The National Council of Educational Research and Training (NCERT) designed an assessment framework and tools for NAS-2021.
It provides a system-level reflection on the effectiveness of school education.
It collects information on relevant background variables such as school environment, teaching processes, and student home and background factors.
It covers the whole spectrum of schools including Government schools (both State and Central government), Government-aided schools, and Private schools across India.
The NAS 2021 was conducted in 22 mediums of instruction that covered English, Assamese, Bengali, Gujarati, Kannada, Hindi, Malayalam, Marathi, Manipuri, Mizo, Punjabi, Odia, Telugu, Tamil, Bodo, Urdu, Garo, Konkani, Khasi, Bhutia, Nepali, and Lepcha.
It was conducted in different subjects for different grades. The subject and grades wise break up is below:

Grade 3 and 5: Language, EVS, and Mathematics
Grade 8: Language, Science, Mathematics, and Social Science
Grade 10: Language, Science, Mathematics, Social Science, and English

Objective:

To provide structured feedback on student learning levels at District, State, and national levels. These inputs are used for policy planning and designing pedagogical interventions to improve quality and ensure equity in learning.