Azadi Ka Amrit Mahotsav: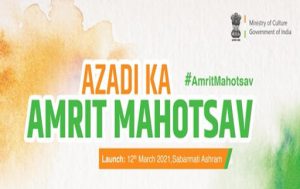 The Prime Minister, Shri Narendra Modi flagged off the 'Padyatra' (Freedom March) from Sabarmati Ashram, Ahmedabad and inaugurated the curtain raiser activities of the 'Azadi Ka Amrit Mahotsav'
The launch of the 'Azadi ka Amrit Mahotsav' 75 weeks before 15 August 2022 will continue till 15 August, 2023.
The Prime Minister reiterated five pillars i.e. Freedom Struggle, Ideas at 75, Achievements at 75, Actions at 75 and Resolves at 75 as guiding force for moving forward keeping dreams and duties as inspiration.
The Prime Minister launched the website of India@75 on the occasion.
He also launched the 'Atmanirbhar Incubator' programme of Ministry of Culture in partnership with Sabarmati Ashram Preservation and Memorial Trust to preserve the skills and arts of artisans/crafts persons on the verge of extinction.
A Charkha has been installed near Magan Niwas at Sabarmati Ashram. It will rotate full circle with each Tweet related to Aatmanirbhar Bharat.