Bhopal's Habibganj Railway Station : Now Rani Kamlapati Station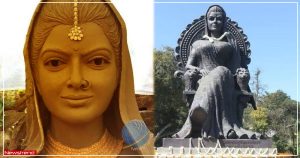 The name of Bhopal's Habibganj railway station has been changed to Rani Kamlapati station.
The station has been redeveloped at a cost of around Rs 100 crore with private participation — a first such large-scale PPP model in station redevelopment in India, in the works for the past few years.
Rani Kamlapati was the widow of Nizam Shah, whose Gond dynasty ruled the then Ginnorgarh, 55 km from Bhopal, in the 18th century.
Kampalati is known to have shown great bravery in facing aggressors during her reign after her husband was killed.
Kamlapati was the "last Hindu queen of Bhopal", who did great work in the area of water management and set up parks and temples.