China Space Station: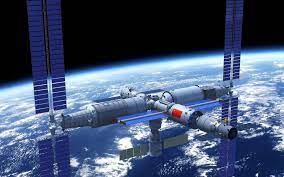 China launched the second of three modules to its permanent space station, in one of the final missions needed to complete the orbiting outpost by year's end.
The 23-tonne Wentian ("Quest for the Heavens") laboratory module was launched on the back of China's most powerful rocket, the Long March 5B from the Wenchang Space Launch Centre on the southern island of Hainan.
The launch was "a complete success".
China began constructing the space station in April 2021 with the launch of the Tianhe module, the main living quarters, in the first of 11 crewed and uncrewed missions in the undertaking.
The Wentian lab module, 17.9 m long, will provide space for experiments, along with the other lab module yet to be launched — Mengtian ("Dreaming of the Heavens").
Mengtian is expected to be launched in October and, like Wentian, is to dock with Tianhe, forming a T-shaped structure.