BIMSTEC Ministerial Meeting : Virtually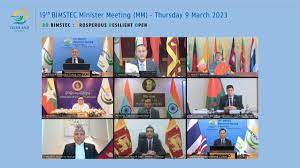 The Minister of State for External Affairs participated in the 19th The Bay of Bengal Initiative for Multi-Sectoral Technical and Economic Cooperation (BIMSTEC) Ministerial Meeting virtually from Bangkok.
During the meeting, the Ministers approved several documents including rules of Procedure for Core BIMSTEC Mechanisms, Sectoral BIMSTEC Mechanisms and BIMSTEC's External Relations for submission to the 6th BIMSTEC Summit.
The meeting also approved the draft Host Country Agreement between India and the BIMSTEC Secretariat for establishing BIMSTEC Centre for Weather and Climate in India.
The Meeting also approved the Terms of Reference for an Eminent Person's Group on the Future Directions of BIMSTEC.
The Terms of Reference were finalized under the special scheme for institution building.
Besides BIMSTEC Bangkok Vision 2030 was also approved and will be launched at the 6th BIMSTEC Summit.
The Meeting also gave its nod to the Administrative and Disciplinary Rules of the Secretariat and amended Financial Rules and Regulations of the BIMSTEC Secretariat.
BIMSTEC:
It is a regional organization that was established on 06 June 1997 with the signing of the Bangkok Declaration.
Member countries: Bangladesh, India, Myanmar, Sri Lanka, Thailand, Bhutan and Nepal
The Chairmanship of BIMSTEC rotates according to the alphabetical order of the English names of the Member States.
During the Third BIMSTEC Summit, the Secretariat was established in Dhaka, Bangladesh.