Today Current Affairs: 27th March 2021 for UPSC IAS exams, State PSC exams, SSC CGL, State SSC, RRB, Railways, Banking Exam & IBPS, etc
Indian Beamline Project: Third Phase: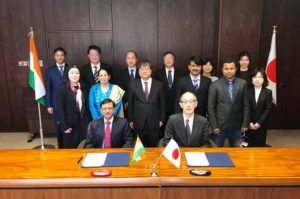 The third phase of the Indian beamline project, a facility for materials research set up under India-Japan Scientific and Technological Cooperation, was initiated on March 23, 2021, with a special focus on industrial application research.
The phase would increase the number of young researchers from India to be trained in advanced X-ray techniques of material research.
Besides, steps will be taken to allocate more beamtime so that more researchers can get access to it. At present, only 50 % of Indian researchers who apply receive beamtime.
The Indian beamline has been constructed and maintained by Saha Institute of Nuclear Physics (SINP), Kolkata and Jawaharlal Nehru Centre for Advanced Scientific Research (JNCASR), Bangalore; in the Japanese synchrotron light source Photon Factory (PF) of High Energy Accelerator Research Organization (KEK), with support from Nano Mission, Department of Science and Technology (DST).
This India-Japan Scientific and Technological Cooperation project was initiated between the DST and the KEK on 24 July 2007.
In the first phase (2009-2015) of this project, an X-ray beamline (BL18B) was constructed by SINP in PF. In the second phase (2016-2021), JNCASR and SINP jointly developed the beamline further to cater to the need of various users from India.
The Bihar Special Armed Police Bill, 2021: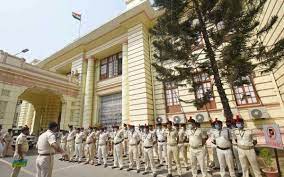 The Bihar Special Armed Police Bill, 2021 was passed recently amid protests by the Opposition.
The Bill is aimed at boosting security and will have limited scope as it is applicable only to certain specified areas.
Aim of the Bill:
It "aims to develop the Bihar Military Police into a well-trained and fully equipped armed police force with multi-domain expertise to cater to the development needs and the larger interest of the state.
Key Provisions:
Renames the Bihar Military Police as the Bihar Special Armed Police, and gives the force more teeth, on the lines of the Central Industrial Security Force (CISF), so it can better secure the commercial and industrial assets of the state.
The mandate of the force will be the "maintenance of public order, combating extremism, ensuring the better protection and security of specified establishments in such manner as may be notified and perform such other duties, as may be notified."
Empowers Special Armed Police officers to carry out searches and arrests without warrants.
Courts can take cognizance of certain offenses by the officers only after government sanction.
Right to Information (RTI) requests in 2019-20: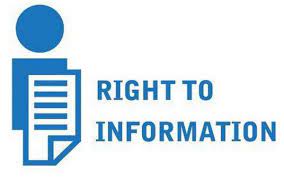 The Centre has only rejected 4.3% of all Right to Information (RTI) requests in 2019-20, the lowest ever rate, according to the Central Information Commission's annual report.
However, almost 40% of these rejections did not include any valid reason, as they did not invoke one of the permissible exemption clauses in the RTI Act, according to an analysis of report data by RTI activist Venkatesh Nayak.
This includes 90% of rejections by the Prime Minister's Office.
Public authorities under the Central government received 13.7 lakh RTI requests in 2019-20, out of which 58,634 were rejected for various reasons.
Rejection rates have fallen since the 13.9% rate in 2005-06 and have been steadily trending downwards since the 8.4% spike in 2014-15. In 2019-20, they hit their lowest level so far.
The Home Ministry had the highest rate of rejections, as it rejected 20% of all RTIs received. The Agriculture Ministry's rejection rate doubled from 2% in 2018-19 to 4% in 2019-20.
The Delhi Police and the Army also saw increases in rejection rates.
The RTI Act allows public authorities to reject RTI requests on a number of grounds, ranging from information that would endanger life and safety to that which involves irrelevant personal information, Cabinet papers, foreign governments, copyrights, or sovereignty, security, and intelligence matters.
Public authorities are expected to cite the relevant clause of the Act to invoke the exemption.
Global Wind Report 2021: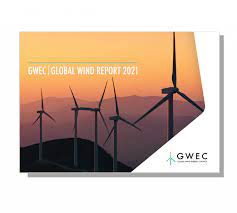 The report warns that there is a need to install new wind power capacity three times faster by the next decade in order to achieve global climate targets & limit global warming to below 2°C above the pre-industrial levels.
In the year 2020, 93 GW of new capacity were installed. It is a 53% year-on-year increase.
But this is not sufficient to ensure that the world will achieve net-zero emission target by 2050.
As per the report, the total global wind power capacity is up to 743GW now. This is helping the globe to avoid over 1.1 billion tonnes of CO2 annually.
It is equal to the annual carbon emissions of South America.
The report warns that the world needs to install a minimum of 280 GW of new wind energy per year in a bid to avoid the worst impacts of climate change.
Thus, industry & policymakers need to act fast to accelerate deployment.
It underlines that Governments across the globe must work with a 'climate emergency' approach to eliminate red tape and planning delays. Government must expand grid infrastructure to scale-up wind power at the required pace.
Wind power is a cornerstone to achieve a net-zero emission target and power a green recovery because it is cost-competitive and a resilient power source which is having the most decarbonization potential per MW.
According to the report, technology innovations and economies of scale have quadrupled the global wind power market in size in the past decade.
Growth in 2020 was driven by installations on large scale in China and the US which are the two largest wind power markets in the world.
Both countries have over half of the total wind power capacity and they accounted for 75% of new installations in 2020.
World Development Report 2021: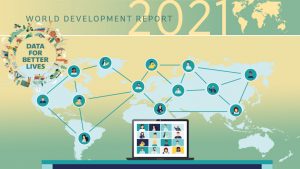 World Development Report: Data for Better Lives was released on March 24, 2021. It examines the tremendous potential and risks of changing the data landscape for people living in lower-income countries.
Recommendations of report
New Social Contract for Data: Global South experts recommends that different stakeholders like civil society and academia, are key to help in improving transparency and contribute towards development.
Increase Data use to Realize Value: The experts also flagged gaps in understanding data and its governance in developing contexts.
So, they recommend that efforts should be made to improve data literacy and expand access for all especially, the vulnerable groups.
Equitable access: The experts raised concerns on how public and private systems for data do not capture poor people or vulnerable groups.
So, it recommends, marginalized people need a better representation across data systems.
Protect people from data misuse: Experts further recommends issues related to governance arrangements and systems using which data flow so as to ensure that they are safe, ethical, and secure.
Integrated national data systems.
Experts further highlight difficulties for countries that are suffering from poverty, fragility, and poor governance in designing high-quality data systems. So, they recommend increased investments in physical and human capital to have integrated national data systems.
The report further proposes several ways in which data can be used more effectively so as to improve development outcomes through program design, better public policies and service delivery to improved market efficiency and private sector growth led job creation.
US-Hosted Virtual Summit On Climate: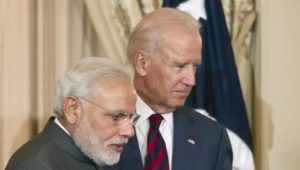 President of the United States, Joe Biden, has invited 40 world leaders including Prime Minister Narendra Modi, for a US-hosted virtual summit on climate in April 2021. Summit will be organized to underline the urgency and economic benefits of stronger climate action.
The objective of the Summit
According to the White House, the Leaders' Summit and the COP26 summit will be organized with the objective of catalyzing efforts in order to keep the goal of limiting the global temperature to 1.5 degrees Celsius. Summit will also underline the examples of how enhanced climate ambition will create good-paying jobs, help vulnerable countries to adapt to climate change impacts, and to advance innovative technologies.
The United States will also announce an ambitious 2030 emissions target as "new Nationally Determined Contribution" under the Paris Agreement.
7th annual summit of NATHEALTH: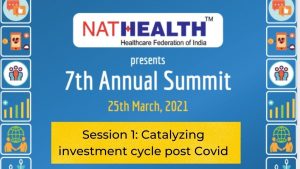 Union Minister for Health and Family Welfare, Dr Harsh Vardhan, addressed the 7th annual summit of NATHEALTH in virtual mode on March 26, 2021. The summit focused on 'Indian Health system expansion in post-COVID era'.
While addressing the summit the minister reiterated the commitments of the government for fulfilling the goal of Health for all. He noted that "Health for All" is a top priority for the current Government and to institutionalize the approach towards this goal, the government has launched the "National Health Policy" in 2017.
The primary vision of the policy-framework is to attain the highest possible level of health and well-being for all irrespective of all age groups. To attain this vision, the policy emphasizes preventive & promotive aspects of health and providing universal access to good quality healthcare services.
The government also launched the Ayushman Bharat program with the objective of providing Universal Free Access to primary health care, promoting health and wellbeing.
Tribal TB Initiative: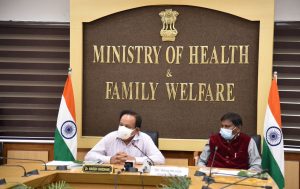 Union Health Minister Dr. Harsh Vardhan launched the 'Tribal TB Initiative' in pursuit of TB Mukt Bharat.
A Guidance Note on Joint Action Plan for Tuberculosis (TB) Elimination, a Special Edition of Tribal Ministry's Publication 'ALEKH' on TB, and a document on Tribal Tuberculosis (TB) Initiative was also released.
Over 104 million tribal population lives in India, across 705 tribes, accounting for 8.6 % of the country's population.
177 tribal districts were identified as high priority districts where physical remoteness, malnutrition, poor living conditions, and lack of awareness contribute to the vulnerability of the tribal population to TB.
Initially, the activities of the joint plan will be focusing on 161 districts across 18 identified States.
This would involve periodic TB active case finding drives and provision of TB Preventive Therapy (IPT) to identified vulnerable populations and develop long-term mechanisms for vulnerability reduction.
The Union Territories of Lakshadweep and the district of Badgam in Jammu and Kashmir have been declared TB Free on World TB Day this year.
The government has already increased the Budget allocation for TB in India four-fold in the last 5 years.
Maharashtra Bhushan award: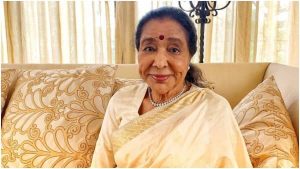 Legendary singer Asha Bhosle will be presented the Maharashtra Bhushan award for the year 2020, the State government's highest honour.
A committee headed by Chief Minister Uddhav Thackeray held a meeting earlier today in this regard.
The award, instituted in 1996 by the State government to recognize distinguished work and achievements of eminent persons from the State, representing different walks of life, carries a cash prize of ₹10 lakh and a citation.
Born on September 8, 1933, in Maharashtra's Sangli district, Ms. Bhosle was initiated into music by her father, the renowned Marathi stage actor-singer Dinanath Mangeshkar.
Bhosle received the Dadasaheb Phalke Award for 2000.
The first Maharashtra Bhushan awardee was Marathi writer P.L. Deshpande and the last winner of this award was historian Babasaheb Purandare who got it for the year 2015.
Her sister Lata Mangeshkar won the award for 1997.
Cryptocurrencies: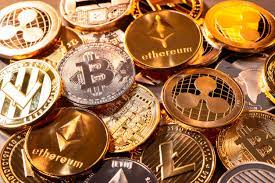 The corporate affairs ministry has announced companies will have to disclose any holding or dealings in cryptocurrencies or virtual currencies in their financial statements filed with the Registrar of Companies.
This is a major step towards regulating the crypto assets in India and will bring in a lot of transparency in reporting/filing of crypto investments So far, the government was planning to ban them.
Cryptocurrencies are digital currencies in which encryption techniques are used to regulate the generation of units of currency and verify the transfer of funds, operating independently of a central bank
NISAR: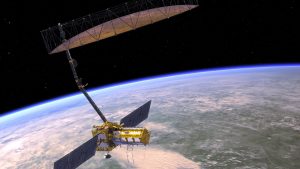 NASA and ISRO are collaborating on developing a satellite called NISAR, which will detect movements of the planet's surface as small as 0.4 inches over areas about half the size of a tennis court.
NISAR is an SUV-sized satellite that is being jointly developed by the space agencies of the US and India.
The name NISAR is short for NASA-ISRO-SAR. SAR here refers to the synthetic aperture radar that NASA will use to measure changes in the surface of the Earth.
Essentially, SAR refers to a technique for producing high-resolution images.
Because of the precision, the radar can penetrate clouds and darkness, which means that it can collect data day and night in any weather.
The partnership agreement was signed between NASA and ISRO in 2014.
NASA will provide one of the radars for the satellite, a high-rate communication subsystem for science data, GPS receivers, and a payload data subsystem.
ISRO, on the other hand, will provide the spacecraft bus, the second type of radar (called the S-band radar), the launch vehicle, and associated launch services.
The satellite will be launched in 2022 from the Satish Dhawan Space Center in Sriharikota, India, into a near-polar orbit.
It will scan the globe every 12 days over the course of its three-year mission of imaging the Earth's land, ice sheets, and sea ice to give an "unprecedented" view of the planet