Biomedical Waste: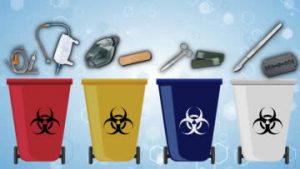 The report titled, "State of India's Environment 2021," released by the Centre for Science and Environment, said 2,03,000 kg of COVID-19 biomedical waste was produced daily in May this year and it was roughly 33% of India's non-COVID biomedical waste.
As per Bio-medical Waste Management Rules, 2016, Bio-medical waste is required to be segregated in 4 colour coded waste categories, and the same is treated and disposed of as per the methods prescribed under Schedule I of the Rules.
Common methods of treatment and disposal of bio-medical waste are by

incineration/plasma pyrolysis/deep-burial for Yellow Category waste;
autoclaving/microwaving/chemical disinfection for Red Category waste;
sterilization and shredding, disinfection followed by burial in concrete pit/recycling through foundry/encapsulation for White Category sharps waste; and
washing, disinfection followed by recycling for Blue Category glass waste.