Solar Waste: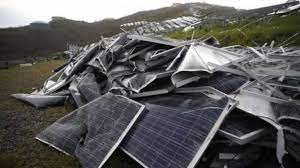 According to a report by the National Solar Energy Federation of India (NSEFI), India could generate over 34,600 tonnes of cumulative solar waste in India by 2030.
India does not have a solar waste management policy, but it does have ambitious solar power installation targets.
NSEFI is an umbrella organisation of all solar energy stakeholders of India. Which works in the area of policy advocacy and is a National Platform for addressing all issues connected with solar energy growth in India.
Solar wastes are the electronic waste generated by discarded solar panels. They are sold as scrap in the country.
It can increase by at least four-five-fold by the next decade. India should focus its attention on drafting comprehensive rules to deal with solar waste.
It is likely that India will be faced with solar waste problems by the end of this decade, and solar waste will end up being the most prevalent form of waste in landfills soon.
Solar panels have a life of 20-25 years, so the problem of waste seems distant.
While photovoltaics generate only about 3 % of global electricity, they consume 40 % of the world's tellurium, 15 % of the world's silver, a substantial chunk of semiconductor-grade quartz and lesser but still significant amounts of indium, zinc, tin and gallium.
The market value of raw materials recovered from solar panels could reach USD 450 million by 2030.
The value of recoverable materials might surpass USD 15 billion by 2050, which would be enough to power 630 GW with two billion solar panels.
Globally, it is expected that End-of-Life (EoL) of solar panels will drive the solar panel recycling business in the next 10-20 years.