Blue Food: Benefits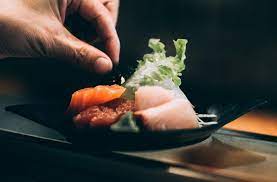 A new study suggests that blue food sourced from aquatic environments can help reduce nutritional deficiencies and contribute to employment and export revenue in India.
Blue food is food derived from aquatic animals, plants or algae that are caught or cultivated in freshwater and marine environments.
Blue foods are important for the economies, livelihoods, nutritional security, and cultures of people in many countries.
They supply protein to over 3.2 billion people, are a key source of nutrients in many coastal, rural and indigenous communities, and support the livelihoods of over 800 million people, the majority of whom work in small-scale systems.
They generate lower emissions compared to terrestrial meat.
Aquatic foods can also be used to address B12 and omega-3 deficiencies in India.
Over 91% of countries with vitamin B12 deficiencies also show high levels of omega-3 deficiency
Promoting blue foods over red meat overconsumption could address health and environmental concerns for about 82% of the 22 countries suffering from a high cardiovascular disease risk.
Blue foods can help improve nutrition, livelihoods or national revenue for the global south and indigenous communities in the global north.