Bulava Ballistic Missile : Successful Test Launch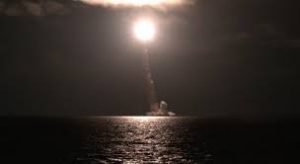 Russia recently carried out a successful test launch of the Bulava ballistic missile, designed to carry nuclear warheads
Bulava Ballistic Missile is a new Russian submarine-launched Intercontinental Ballistic Missile (ICBM).
Development of this missile commenced in 1998.
The first powered flight test of the Bulava missile occurred in September 2005. It's first submerged test launch followed in December.
It was designed to be deployed onto Russia's Borey-class ballistic missile submarines (SSBNs).
It was designed to be the backbone of Moscow's nuclear triad and has a range of over 8,000 kilometres (close to 5,000 miles).
It is 12-13.5 m in length and has a diameter of approximately 2.0 m.
Launch Weight: 36,800 kg
It is a three-stage solid-fuel missile.
It is designed to carry multiple warheads. Each warhead will strike a different target.
It can carry six Multiple Independent Re-entry Vehicles (MIRVs).
These MIRVs are capable of manoeuvring in-flight and re-targeting, in order to outmanoeuvre hostile air defences.
It is stated that this missile has an accuracy of 350 m.