CCUS Policy Framework And Its Deployment : NITI Aayog Report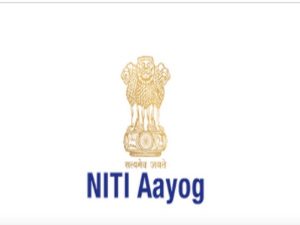 NITI Aayog has released a study report, titled 'Carbon Capture, Utilisation, and Storage (CCUS) Policy Framework and its Deployment Mechanism in India'.
The report explores the importance of Carbon Capture, Utilisation, and Storage as an emission reduction strategy to achieve deep decarbonization from the hard-to-abate sectors.
Key Highlights of the Report:
CCUS can provide a wide variety of opportunities to convert the captured CO2 to different value-added products like green urea, food and beverage form application, building materials, chemicals (methanol and ethanol), polymers (including bio-plastics) and enhanced oil recovery (EOR) with wide market opportunities in India, thus contributing substantially to a circular economy.
CCUS projects will also lead to a significant employment generation. It estimates that about 750 mtpa of carbon capture by 2050 can create employment opportunities of about 8-10 million on full time equivalent (FTE) basis in a phased manner.
Carbon Capture, Utilization, and Storage:
CCUS encompasses methods and technologies to remove CO2 from the flue gas and from the atmosphere, followed by recycling the CO2 for utilization and determining safe and permanent storage options.
CO2 captured using CCUS technologies is converted into fuel (methane and methanol), refrigerants and building materials.
CCUS is considered an important tool to help countries halve their emissions by 2030 and reach net-zero by 2050.
These goals are crucial to meet the Paris Agreement targets for restricting global warming to 2 degrees Celsius (°C), and preferable to 1.5°C, over pre-industrial levels.