India's First Hydrogen Internal Combustion Engine (H2-ICE) Powered Truck: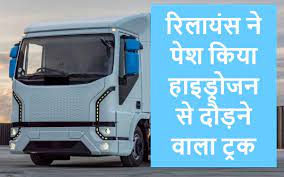 Ashok Leyland unveil India's first hydrogen-powered heavy-duty truck at India Energy Week
The ICE in H2-ICE stands for Internal Combustion Engine.
It was developed by Reliance in partnership with Ashok Leyland.
The H2-ICE truck is the first of its kind in India to be powered by hydrogen.
The cost of the production of the truck was high.
However, the truck emits zero carbon
It does not produce carbon emissions.
It produces nitrogen oxides.
Some countries ignore nitrogen oxides as pollutants if they are released in meagre amounts.
The H2-ICE produces nitrogen oxides only if atmospheric hydrogen is used.
India includes nitrogen oxides in its pollutant list.
There are no sulphur oxides, carbon monoxide, particulate matter, or Hydro carbons emissions in H2-ICE.