CharDham Project: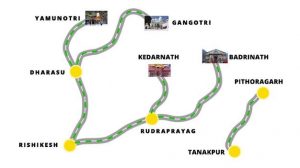 The Supreme Court (SC) has spoken of the need to balance national security concerns with environmental issues in the context of the Army's request to expand the CharDham Project (CDP) roads leading to the Indo-China border.
The request came in the context of construction being carried out by China across the border. However, expansion of roads has been opposed by an NGO citing environmental concerns.
CharDham Pariyojana aims to "improve the connectivity to the Chardham pilgrimage centres (Badrinath, Kedarnath, Gangotri, Yamunotri) in the Himalayas, making journeys to these centres safer, faster and more convenient.
It will widen almost 900 km of highways connecting the pilgrimage sites and the Tanakpur-Pithoragarh stretch of National Highway (NH) 125, a part of the Kailash Mansarovar Yatra route.
Role in National Security: This project can act as the strategic feeder roads which connect the India-China border with the Army camps in Dehradun and Meerut where missile bases and heavy machinery are located.
Implementing Agencies: Uttarakhand State Public Works Department (PWD), Border Roads Organisation (BRO) and the National Highway & Infrastructure Development Corporation Limited (NHIDCL).
NHIDCL is a fully owned company of the Ministry of Road Transport & Highways.