4th Tiger Reserve Of Rajasthan: Ramgarh Vishdhari Wildlife Sanctuary: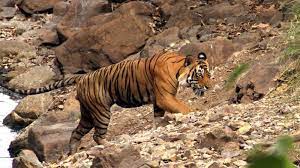 The Ramgarh Vishdhari wildlife sanctuary received a nod from the National Tiger Conservation Authority's (NTCA) technical committee to become the 4th Tiger reserve of Rajasthan.
This will be the 52nd Tiger Reserve of India.
The Global Tiger Day, celebrated on 29th July, is an annual event marked to raise awareness about tiger conservation.
Ramgarh Vishdhari wildlife sanctuary:
This Sanctuary is located at a distance of 45 Km from Bundi City on Bundi-Nainwa Road near Village Ramgarh, District Bundi, Rajasthan.
It was notified in the Year 1982 and is spread over an area of 252.79 Sq. Km.
The total area of 1,017 sq. km has been identified as the reserve area comprising two forest blocks of Bhilwara, territorial forest block of Bundi and Indargarh, which falls under the buffer zone of Ranthambore Tiger Reserve (RTR).
Its flora consists of Dhok, Khair, Salar, Khirni trees with some Mango and Ber trees.
The Fauna consists of birds and animals like Leopard, Sambhar, Wild boar, Chinkara, Sloth bear, Indian Wolf, Hyena, Jackal, Fox, deer and Crocodile.