Chief Of Defence Staff: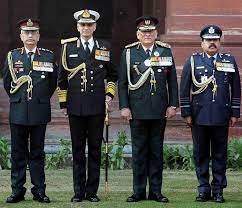 Chief of Defence Staff to chair important meeting to sort out issues on theatre command.
The meeting is called to iron out the differences on issue of the structure of the Theatre Commands.
The war fighting structure of the Armed Forces (Army, Air Force and Navy) is being reorganised into theatre commands with an aim to have the assets of all three forces under one commander responsible for all operations under his theatre.
At present, the three armed forces have together 17 commands with Army and Air Force having seven commands each and Navy has three commands.
Read this to know more about theatre commands.
About CDS:
He will be the single-point military adviser to the government as suggested by the Kargil Review Committee in 1999.
He will be a Four-star General.
CDS acts as the permanent Chairman of the Chiefs of Staff Committee which will also have three service chiefs as members.
His core function will be to foster greater operational synergy between the three service branches of the Indian military and keep inter-service frictions to a minimum.