Joint Theatre Commands: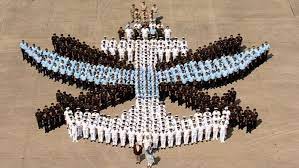 Defence minister Rajnath Singh announced the setting up of joint theatre commands of the tri-services to enhance coordination among the armed forces.
The defence minister also said India is moving quickly from being the world's largest importer of defence equipment to an exporter.
Joint theatre commands:
An integrated or joint theatre command envisages a unified command of the three Services, under a single commander, for geographical theatres (areas) that are of strategic and security concern.
The commander of such a force will be able to bear all resources at his disposal — from the Army, the Indian Air Force, and the Navy — with seamless efficacy.
The integrated theatre commander will not be answerable to individual Services.
Integration and jointness of the three forces will avoid duplication of resources.The resources available under each service will be available to other services too.
The services will get to know one another better, strengthening cohesion in the defence establishment.
The Shekatkar committee has recommended the creation of 3 integrated theatre commands — northern for the China border, western for the Pakistan border, and southern for the maritime role.