China's New High-Tech Aircraft Carrier Fujian: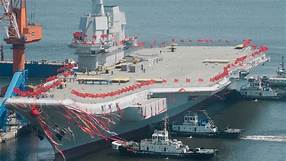 China unveiled its first indigenous aircraft carrier, the new-generation Fujian (Type 003).
China now has the most number of aircraft carriers after the U.S.
The Fujian has been named after China's eastern coastal province which lies across from Taiwan.
The Fujian joins two other carriers currently operated by China — Shandong (Type 001), commissioned in 2019, and the Liaoning (Type 002), bought second-hand from Ukraine in 1998.
The Type 003 carrier more technologically advanced than its predecessors Shandong and Liaoning.
Features:

The Fujian's displacement is 80,000 tonnes, much more than the existing Chinese carriers, and comparable to U.S. Navy aircraft carriers.
The Fujian has been fitted with the latest launch technology — the Electromagnetic Aircraft Launch System (EMALS), first developed by the U.S. Navy.
It also has a straight flat-top flight deck for take-offs and landings,
The two existing vessels use a ski jump-style ramp.
A ski-jump is an upward-curved ramp that allows aircraft to take off from a runway that is shorter than the aircraft's required takeoff roll.