City With The Most Sustainable Transport System: Kerala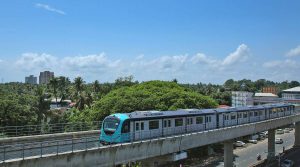 Kerala has won the award for the 'city with the most Sustainable Transport System'.
It will be presented by the Ministry for Housing and Urban Affairs.
The award is given in recognition of the transport facilities in various states and Union Territories of India.
The award has been given in recognition of the projects implemented — like Kochi Metro, Water Metro (Water Connectivity with the same experience as metro) and E-mobility — to enhance the transport facilities in the city of Kochi.
The formation of the Kochi Open Mobility Network, which digitized and integrated various transport facilities, also helped to win the award.
Sustainable Transport
It refers to any means of transportation that is 'green' and has low impact on the environment. It is also about balancing our current and future needs.
Examples of sustainable transportation include walking, cycling, transit, carpooling, car sharing, and green vehicles.