Consumer Protection Rules, 2021: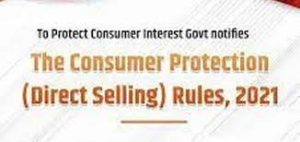 In exercise of provisions under the Consumer Protection Act, 2019, the Central Government has notified the Consumer Protection (Jurisdiction of the District Commission, the State Commission and the National Commission) Rules, 2021.
The Act stipulates the pecuniary jurisdiction of each tier of consumer commission.
The new rules revised pecuniary jurisdiction for entertaining consumer complaints.
Earlier, the Centre had notified Consumer Protection (Direct Selling) Rules, 2021 for the direct selling industry.
Revised Pecuniary Jurisdiction:
50 lakh (earlier less than 1 crore) for District Commissions,
More than Rs. 50 lakh to Rs. 2 Crore (earlier 1 crore to 10 crore) for State Commissions,
More than Rs. 2 Crore (earlier more than 10 crore) for the National Commission.
About Consumer Protection Act, 2019:
Product Liability: A manufacturer or product service provider or product seller will be held responsible to compensate for injury or damage caused by defective product or deficiency in services.
Three-tier Quasi-judicial Mechanism: The Act promulgates a three-tier quasi-judicial mechanism for redressal of consumer disputes namely district commissions, state commissions and national commission.
Time Bound Disposal of Complaint: The Act stipulates that every complaint shall be disposed of as expeditiously as possible and endeavour shall be made to decide the complaint within a period of 3 months from the date of receipt of notice by the opposite party.
The complaint does not require analysis or testing of commodities and within 5 months if it requires analysis or testing of commodities.
Filing Complaints Electronically: The Act also provides consumers the option of filing complaints electronically.
To facilitate consumers in filing their complaint online, the Central Government has set up the E-Daakhil Portal.
Mediation Route: The Act also includes reference of consumer disputes to Mediation, with the consent of both parties.
This will not only save time and money of the parties involved in litigating the dispute, but will also aid in reducing overall pendency of cases.