Gujarat 'Madhavpur Mela':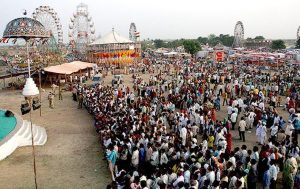 President Ramnath Kovind inaugurated the annual Madhavpur Mela. It is a five-day cultural fair that is held in Madhavpur, the coastal village, located 60 kilometers south of Porbandar.
This festival celebrates the marriage of Lord Krishna with Rukmini.
This marriage is said to have taken place in Madhavpur.
It is said that Rukmini was from the present-day Arunachal Pradesh.
On Ram Navami, Madhavpur Mela begins.
Ram Navami is the day that marks the birth of Lord Rama.
A Madhavrai temple of the 15th-century marks the site of this fair.
Every year during this event a cultural fair is also held.
A chariot is decorated colourfully and it carries the idol of Lord Krishna around the village.
The festivities are usually held for a period of five days.