INS Mormugao: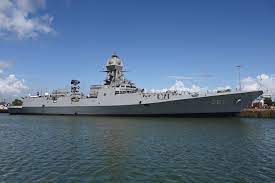 The Indian Naval Ship (INS)Mormugao, the second warship of the P15B class destroyer ship was recently commissioned.
INS Mormugao is named after the historic port city of Goa on the west coast.
INS Mormugao is the second of the four 'Visakhapatnam' class destroyers, indigenously designed by the Indian Navy's in-house organization Warship Design Bureau and constructed by Mazagon Dock Shipbuilders Limited (MDL), Mumbai
INS Mormugao is equipped with Anti-Submarine Warfare capabilities which are provided by indigenously-developed Rocket Launchers, Torpedo Launchers, and ASW helicopters.
The ship is equipped to fight under Nuclear, Biological, and Chemical warfare
The ship's firepower consists of vertically launched Barak-8 surface-to-air missiles and BrahMos surface-to-surface cruise missiles for long-range engagement of shore- and sea-based targets.
The Visakhapatnam class destroyers have multiple fire zones, battle damage control systems, and distributional power systems for improved survivability and reliability in extreme operational and conflict scenarios.
They have a total atmospheric control system (TACS) that offers protection to the crew from chemical, biological, and nuclear threats, as well as a state-of-the-art combat management system that can evaluate threats using analytical tools and create a tactical picture that includes available resources on board.
The warships have a secure network for data from its sensors and weapons systems.
The destroyer will also be armed with indigenously developed 533 mm torpedo launchers and RBU-6000 anti-submarine rocket launchers.
It can operate two multi-role helicopters Sea King or HAL Dhruv.
The ship also has rail-less helicopter traversing, and a hangar facility.